The recruiting and hiring process sucks. A great team just wants to find another great team member. Simple, right?
The B.S. associated with job boards, recruiters, posturing/positioning/perk-promoting is so tired. Got beer? Ping pong? Retreats? Dogs in the office? Blah blah blah blah. Yes. We do. We all do. There were 3 dogs in the lab yesterday – it was mayhem. Lovely, lovely mayhem.
Everything sounds the same. All design/dev shops, startups or 'innovation studios' look formulaic now.
It all bores me.
What doesn't bore me is fantastic fucking people. That's who I want to meet. That's who we want to hire. That's who we are.
So let's cut the shit.
If you're a talented designer or developer email me at peter@isl.co so we can sync up.
You could look at our careers page if you want, but those are just boxes, right? You probably don't fit neatly inside of just one.
If you want to get a better sense of our team, here's a ridiculous amount of links, pics, and vids that will clarify what this place is really all about. Oh – and as the title suggest, if you join us you can either pet your new colleagues dogs or we'll hand deliver a new pup straight to your door (hopefully from a local shelter). Not sure why we'd do this but it made for a pithy headline.
More about iStrategyLabs:
We're 48 people now. 24 Engineers and Designers (Core Team).
We build hardware, software, and campaigns for companies you know and love, and have a new product incubating internally.
We're well known for inventing internet connected devices. Check these out:
The Selfie Mirror
REDD's Launcher for MillerCoors
SpongeBob's Skill Crane for Nickelodeon
The GE Social Fridge
The Twitter Locker for Qlik
The PiePal
The Social Photo locker for the Redskins
The Paintbot
We, of course, do a lot of web/mobile design and dev work. You can see a bunch of that  here.
We have a pro-napping policy. See the Sleeping Audrey tumblr for evidence.
We do lots of fun, weird things around the lab. Our world is full of playful, creative expression. Here are some highlights:
We have all-hand internal innovation days where we hang together for a day (usually a Friday) and work on company optimization and foster new ideas.
The ISL ladies sometimes use the company "Fun Fund" to get mani-pedis. Zach, our Creative Director, has been known to join them.
We're addicted to stickers. Each team has their own.
The ISL dogs kinda run the place.
Sometimes, we get a lot of love from the press…
We have an unbelievable view from the top floor of a Dupont Circle office building.
We're big eaters and total coffee snobs. We eat and work together in the kitchen a lot.
Sometimes we exercise. Half the office rides their bike to work.

We do a lot of rapid prototyping with 3D printers in the lab.
It does get weird sometimes. You really never know what will happen during the day or who'll show up to a meeting.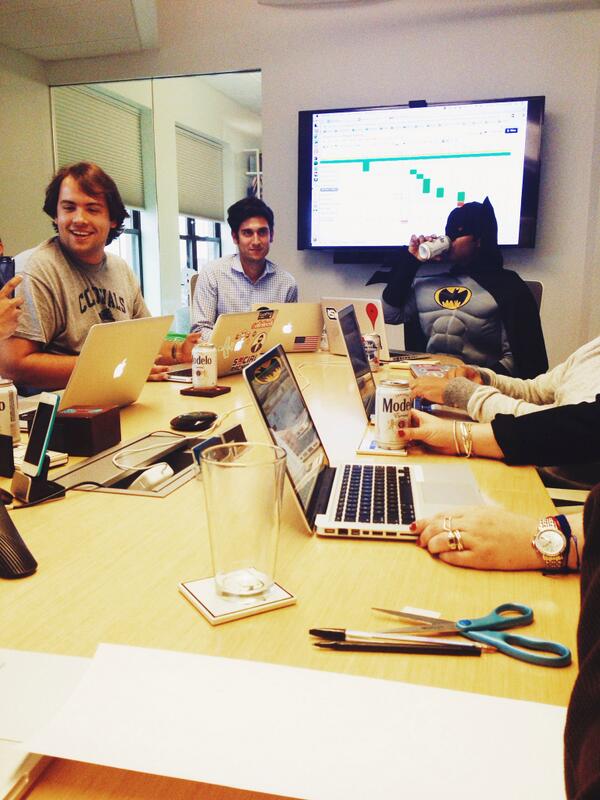 We take pride in punking the internet. Like when we April Fooled people with Beardswipe.
We're heavily addicted to Uber and got a little to excited about their Uber Tree delivery service last year.
We're also kinda fixated on hacking coolers to give us drinks.
But mostly we're a great team who enjoys each other's company and likes to do great work. Checkout more ISL fun on our Facebook page.